ABOUT PAUL DOUGLAS
Located at Paul Douglas Woods, managed in cooperation with the Forest Preserves of Cook County.
Paul Douglas is a progressive multi-use trail system for mountain biking and hiking. The trails are directional (one-way) and change based on the day of the week. Signage is clearly marked at trail heads and in various locations while riding. Please also view the trail map for additional information on trails and directions.
Disclaimer:
Please do not ride or hike across the prairie or on unmarked trails.
FROST ROAD IS PRIVATE, DO NOT USE, NO ACCESS, NO PARKING
GROUP RIDES
Weather permitting, and during peak riding season, a group ride typically takes place every Thursday night around 5-6pm. To keep updated on group rides and other riding events, be sure to follow us on Facebook.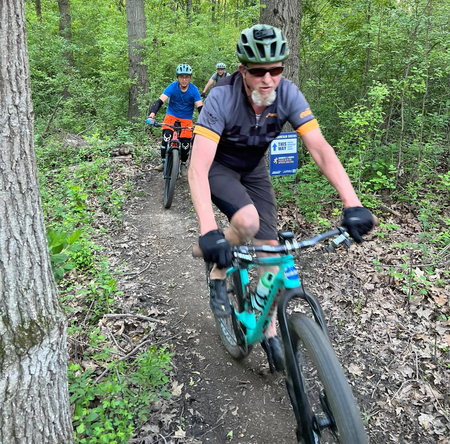 CURRENT CONDITIONS
PAUL DOUGLAS ON SOCIAL MEDIA
TRAIL COORDINATOR
LAND MANAGERS
MAPS
LOCAL BIKE SHOPS
Trailforks.com
PAUL DOUGLAS TRAIL STORIES